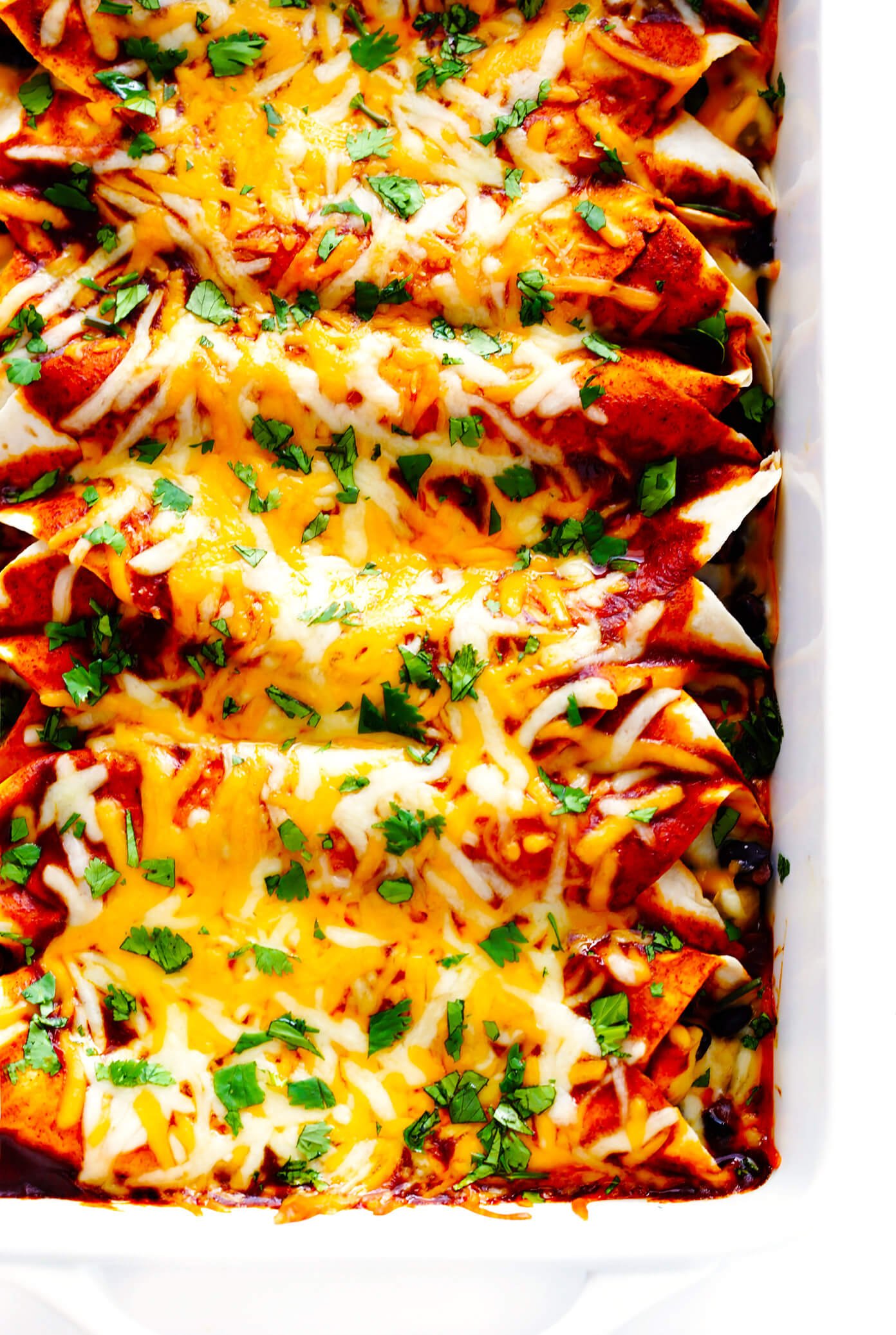 Verde Chicken Enchilada Casserole Ingredients:
The joy of enchilada casseroles is that they are
super
customizable when it comes to ingredients. So feel free to sub/add in any of your favorite fillings here. I like to use:
Cooked chicken: Either from baked chicken breasts recipe, or I often just shred a rotisserie chicken.


Veggies: The recipe below uses a quick blend of onion, poblano (or green bell) pepper, corn and fresh spinach. But feel free to add any other favorite veggies to the sauté.


Beans: Two cans of your faves. I used pinto beans for this version.


Enchilada sauce:Homemade or store-bought.


Corn tortillas: We'll cut them in half, in order to help them layer a bit more evenly.


Shredded cheese: Any kind of Mexican blend, Monterrey Jack or Pepperjack will do.


Toppings: Chopped fresh cilantro, diced red onion, thinly-sliced green onion, diced avocado, sour cream, extra cheese…whatever sounds good to you.
How To Make A Chicken Enchilada Casserole:
To make this chicken enchilada casserole, simply:
Cook your filling: Sauté the onion and pepper until soft. Then stir in the beans, corn, chicken and part of the green enchilada sauce until combined. This will be your main filling.


Stack your layers: In this order: enchilada sauce, tortillas, chicken filling, cheese, tortillas, chicken filling, cheese, tortillas, chicken, enchilada sauce and cheese.


Bake: Covered for 20 minutes, then uncovered for another 10 until the cheese is melted.


Garnish: Sprinkle on any of your desired toppings. (I vote the more, the merrier for sure.)


Serve warm: Or cover and refrigerate for up to 3 days. (The leftovers are fantastic!)